ARCHIVE OF OLD ARTICLES
SAY NO TO EXPENSIVE AND UNNECESSARY NEW BRIDGE: SIGN THE PETITION
December 3, 2007
In addition to the petition regarding the CAMPO plan (see below), there is another petition asking Travis County and TXDOT to eliminate or greatly scale back their plans to build a new bridge over the Pedernales at Hammett's Crossing. More information about the bridge can be found here. NOTE: This refers to an old petition. See the home page for the new one.
RESIST CAMPO'S ILL-CONCEIVED PLAN FOR 4-LANE HIGHWAY: SIGN THE PETITION
November 20, 2007
A petition is being circulated to be presented to CAMPO and Travis County Commissioners. It asks that the CAMPO 2030 plan, which projects Hamilton Pool Road exploding into a 4-lane divided highway all the way to the Blanco County line (about 2 miles west of the Pedernales River), be returned to a much more sane, earlier plan. Find out more here. Or, if you know all you need to know, sign the on-line petition then tell your friends about the link or download the hardcopy petition and supporting materials and start collecting signatures. We'd like to get all signed petitions back by December 8th.
TX DOT & COUNTY TRY TO SNEAK IN STEALTH BRIDGE AT HAMMETT'S CROSSING
October 24, 2007 - Update
We had a community meeting last evening at Westcave Preserve and there was almost unanimous opposition to any sort of new bridge. Unfortunately, we found out some additional horrifying info about Travis County's, TxDOT's and CAMPO's plans for Hamilton Pool Road. Seems they see it as a 4 lane arterial by 2030. Read more at Hugh Winkler's excellent blog.
October 13, 2007 - Update
Surveying has begun in earnest. A crew was out here yesterday, setting survey points. For pix and description, see below.
October 10, 2007
Federal funds would provide 80% of the cost of construction of a new, high bridge. Read the story. Here's the link.
LAKE TRAVIS ISD MAY NOT TAKE FAMILY RANCH (UPDATE OF BELOW ARTICLE)
February 6, 2007
When the petitions came pouring in and it became abundantly clear that the current school board members would not have widespread community support in the upcoming board elections, they started to hedge a bit. At that point, the board released this statement, which indicated that they may rescind their resolution requesting court-ordered access to the Grumbles' property.
Then, on February 13th, they released this backpedaling document, which hedges on their former hedging. It states that, while they will continue to work in the "best interest" of the school district (meaning they still may go after the Grumbles' property), "no judicial action will be taken at this time". Let's see what happens after the elections.
LAKE TRAVIS ISD TAKING FAMILY RANCH
January 22, 2007
Who woulda thunk it? Lake Travis Independent School District has decided that they need the Grumbles family's ranch, which contains 300 beautiful acres situated at the eastern end of Hamilton Pool Road, going through to Highway 71 West. On that land they want to build a bus maintenance facility, a new school, a stadium and a sports complex. The Grumbles family has occupied that land for over 100 years. 6 generations have lived on and scraped out a living from that working ranch and 3 generations of Grumbles are living there now. The family is clear. They do not want to sell. They have been offered some extremely lucrative offers and have turned them down because this is their home! But the school district has the power of eminent domain, which translates to "screw you and your family heritage". They will not do this to our neighbors without a fight. This evening, a bunch of local folks showed up at the LTISD Board meeting and testified on the Grumbles' behalf. Here's a link to a 22 minute streaming video in RealMedia: Play Video Apologies for the less than perfect quality but it does, at least, contain all the testimony.
On January 30, 2007 the school district released this document, making some cockamamie point about how, since one family member had at one time agreed to talk with them about the possibility of selling, they had passed a resolution on January 8th to take legal action to get access to the property against the family's wishes.
"LAKE BELVEDERE" MEETS LCRA'S (INADEQUATE) CONDITIONS
June 18, 2006
Belvedere, a new neighboring development out here on Hamilton Pool Road was, according to developer Joel Robuck, pumping 57,000 gallons per day from a well to keep a one acre water feature (a "lake" with a fountain) topped off. So much water was required because, in addition to loss from evaporation, it is a leaky lake with a crumbling dam which allows substantial spillage. Robuck apparently stopped pumping after meeting with a green builder who is developing 4 lots in the subdivision and who expressed concern about the waste of water. Unfortunately, the development's water contract with the LCRA only restricts pumping for subdivided areas of 10 acres or less. The lake is part of a larger area adjacent to the "amenity center" and is not subject to the pumping restriction. However, at least for the time being, Robuck seems to be doing the right thing and has suspended drilling another well next to a larger, 3 acre lake on another part of the property. Photos are available for your viewing displeasure. And, here is a press release put out on the situation by the Hill Country Alliance.
TRAVIS COUNTY COMMISSIONERS CAVE IN & APPROVE FOULWATER DEVELOPMENT
May 23, 2006

After numerous postponements and all sorts of posturing, the Travis County Commissioners caved in to developer Bill Gunn and gave their approval to the horrendous "Sweetwater" development which will include over 1,800 homes on lots (as small as 1/6 acre each) that will drain into Bee Creek and spray their effluent across about 300 acres in the Barton Creek watershed. I don't know about you but I kinda knew it was innevitable. The developers just about always win around these parts, especially tenacious bull dogs like Gunn.
Gunn's champion through this entire nasty process has been our own Commissioner Daugherty who, for a while, was the lone voice in favor of this Hill Country-destroying proposal. The guy has never met a chunk of concrete he didn't like. Dougherty has consistently paid lip service to protection of the Hill Country while supporting the worst sorts of development. He's got to go. In the vote this time, all Commissioners except Ron Davis joined the booster chorus
For more information (and a more "political" point of view), check out what the Hill Country Alliance wrote here. Sweetwater will be rearing its ugly head again and again. Stay tuned for reports of unbearable traffic and the associated accidents, as well as environmental degradation resulting from this monstrosity.
LIKE SNAKES?

May 6, 2006 - This, I'm told, is a Blotched Water Snake. I photographed him and his buddy (mate?) as they fished down by the Hammett's Crossing bridge. I couldn't get a good picture of it but the other snake seemed to have swallowed a fish that was way too big and was writhing around down in the mud under water. Supposedly, these are not venomous but can be aggressive. Anybody have any more information on them?
JET PLANES LANDING IN THE NEIGHBORHOOD? WHAT NEXT?
May 6, 2006 - There's a new King Ranch on the way. Also known as Shovel Mountain Ranch, this is a project of developer Jeff Maddux who purchased the property in March and has since added 2 smaller ranches north of it to connect it to Highway 71 near Spicewood Vineyard. Rumor has it that Jeff wants to build 12 miles of road to connect the southern part of the property to 71. The property now totals approximately 6000 acres which is probably going to be subdivided into 100 to 500 acre parcels. The plans also include a 6000 ft. runway to accommodate private jets. Hmm, great place for sheiks.
GREAT BARBEQUE WITH JIMMY DALE GILMORE - BENEFIT FOR LICK CREEK
On March 25th, the folks at La Tierra de los Pedernales on Hamilton Pool Road hosted a concert and picnic to benefit our downstream neighbors, the Guardians of Lick Creek (a 501c3, tax deductible organization). The Guardians have been working tirelessly to try to protect a formerly pristine creek which has been damaged by irresponsible development. It was a great success and lots of fun. Thanks to all the musicians, volunteers and those who came and partied with us. I've posted some pix at the Guarians of Lick Creek website at http://www.lickcreek.org/benefitBBQ3-06.html. Please check it out.
DANGEROUS HWY. 71 WEST GETS INCREASED SHERIFF PRESENCE IN FEBRUARY
Beginning in February, the Travis County Sheriff's Department has authorized a 5 unit "task force" to concentrate on traffic enforcement along 71 between the Pedernales River and Hamilton Pool Road. Aggressive and careless driving on that stretch of highway have made traveling it a dangerous proposition. Hopefully, the increased surveillance will encourage drivers to stick within the (quite sufficient) 65 mile per hour speed limit. Lick Creek resident Richard Scroggins heard from one of the Sheriff's office supervisors, that areas of particular concern include westbound traffic in the vicinity of the Cedars and La Cabana as well as the section between Bee Creek and Hamilton Pool Roads. Here's the original note that Richard sent out.
LETTER TO THE EDITOR TOUCHES A NERVE IN BARRIENTOS' AIDE
March 28, 2005
OK, I'm not political. So sue me. I tend to write letter to the editor that shoot from the hip. This time, I seem to have really pissed off Senator Barrientos, or at least Graham Keever, who works for the Senator. To read the letter I sent to the Statesman (which was published March 24th) as well as the response from Keever, click here.
By the way, that letter did not reflect my overall feeling about Barrientos. It was simply addressing one issue on which I thought he was wrong. As one of the last of the liberal Texas legislators, the senator has done some good. I would particularly like to applaud him for his support and greeting of Cindy Sheehan when her bus arrived in Austin on August 31st. I wish him well in his retirement.
SUBURBIA IS ON ITS WAY - CONVENIENCE STORE INVADING AT HPR & HWY. 12
| | | |
| --- | --- | --- |
| | | |
| Here is Burt & Ernie's, a fine example of a rural community store. They sell most of the basic emergency food and beer items and offer a music venue and meeting place. Plus they are involved in community affairs - good neighbors. | Across Hamilton Pool Rd from Burt & Ernie's, was a vacant lot. I used to pass that "for sale" sign with dread, hoping beyond hope that some good soul would buy it & protect us. | Well, my worst fears have been realized. The 11 acre lot was bought (by J&M Corporation) and half the site is getting this convenience store and restaurant. The other half is for sale. Any good souls out there? |
WANT TO SEE THE LATEST MAP OF THE LCRA WATER LINE AND
COMING DEVELOPMENTS?
We've got it, courtesy of the SOS Alliance, for your viewing displeasure. Click here (if you dare).
AND THEY'RE OFF - HAMILTON POOL ROAD WATERLINE CONSTRUCTION BEGINS
And the big money winner in this race is our neighbor, Ted Stewart, whose Key Enterprises won the $1.4 million contract with the LCRA. Now ol' Ted modestly refers to himself as just a guy who "digs ditches for a living". Well, this one is one hell of a ditch and the hell is ours to suffer. The pain will be especially intense for we Hamilton Pool Road residents (ironically, Ted included) who will soon suffer the effects of newly-enabled (by the pipeline) dense development and all that comes with it. Get ready for some creek-destruction and other environmental catastrophes, folks. But more than anything, get ready for some traffic. Think those line-ups of pickups and SUVs winding around the curves are bad now? Ha!

The LCRA's spin on the contract (along with other news from their point of view) can be read in their water newsletter.
COMMISSIONERS' COURT LETS THE HILL COUNTRY DOWN AGAIN
With the exception of Ron Davis, the Travis County Commissioners' Court is a bunch of developer suck-ups (or spineless wimps at best), who declined to approve a first attempt at water quality protection for the Hill Country. The proposed "Interim Rules" were a rather mild bit of protection but would have been better than nothing (which is what we have now). Though three of the Commissioners (Davis, Gomez & Sonleitener) had expressed their support for the regulations, at their March 15th meeting, only Davis stood by his word and is to be congratulated and thanked (Ron.Davis@co.travis.tx.us). The others rolled over after bullying from greedy developers who want to retain their full power to pollute and who threatened "takings" lawsuits and legislative reprisal (and who knows what else in the back room). For commentary on the situation, check out what Hill Country Alliance Director Christy Muse had to say about the meeting on the HCA website.
BUT WAIT, THERE'S MORE - NEGOTIATING CONTRACT FOR SWEETWATER PHASE 2
Sweetwater? Ha! Foulwater, Swillwater, or maybe Formerly Sweetwater? And LCRA has pretended to be Lower Colorado River Authority for way too long now. The name just doesn't say it. May I suggest Let's Completely Ruin All, or Let's Create Residential Abominations or perhaps Lay Concrete with Reckless Abandon... Despite constant disingenuous proclamations of their water quality protection superiority, their modus operandi seems to be build, build, build and screw the environment. This Foulwater development (3000 homes on 1/4 acre lots, perched on steep hillsides) is just plain awful and old LCRA is making it all possible. Travis County is far from innocent on this issue too. They're ready to give a thumbs up to Phase 2. Read more in this paper recently released by the Hill Country Alliance. Then hit the keyboard (or get out the quill pen) and start writing. To whom, you say? How about these people.
LCRA BOARD FEIGNS CONCERN THEN APPROVES SWEETWATER CONTRACT
At their monthly meeting on February 16th, the many headed monster that is the LCRA board reared its ugly head(s) again and, after making some faint noises about environmental concerns, approved yet another of their monstrous spawn. This one is as bad as they come (or at least as bad as they have come so far). Contract negotiations to provide water and wastewater services for the nearly 3,000 house (on 1/4 acre lots) "Sweetwater" subdivision, along Hwy. 71 west of Bee Cave, have been given board approval. Here is a report from Gene Lowenthal who was at the meeting. The Austin American Statesman published an article on the meeting the next day and, on February 22nd, they published 2 letters from Hill Country residents, including one from yours truly.
CHECK OUT THE JOE BEAL WANTED POSTER ON THE JOE MUST GO SITE
This is a work in progress. Please send me your suggestions for additional copy to add to the site. Who's got dirt on Joe? Come on, fess up. I know the guy's got skeletons. He led the charge against SOS, for cryin' out loud.
EX HUBBY OF LEADING HPR SUBURBANIZOR IS KING MIDAS WANNABEE
Did you know that Rebecca Hudson, the former developer of Rocky Creek Ranch (she has recently sold to another developer), our "leading edge" suburban subdivision (468 houses jammed together on 1/5 to 1/4 acre lots) was married to a guy who wants everything in gold for Christmas?
Phil Hudson, publisher of Brilliant Magazine (a slick rag aimed at Texas' conspicuous consumption set) has revealed his consumerist colors in the Dec./Jan. issue of his magazine. In his self-proclaimed "shameless wish list" he tells the world of his Midas aspirations.
He first brags of his "20 black shirts and countless ebony sweaters" and his 9 black leather jackets. Then he lays out a wish list of replacement items, all in some sort of gold, from sunglasses to a new BMW. He even desires gold-leaf encrusted chocolates. I'm sure the gold adds just the right amount of metallic taste to the candy to make Phil feel very rich indeed.
Well Phil, I hope your dream comes true and you do turn into a King Midas, changing everything you touch into gold. We hear rumors that Phil and Rebecca are no longer together. It is sad when marriages break up. We're sorry.
THE FIX WAS IN - LCRA BOARD APPROVED PIPELINE
Tuesday, December 7, 2004 (Pearl Harbor Day), the LCRA Board of Directors met at the Terrace Club just outside Dripping Springs. There, despite a seemingly impossible-to-ignore amount of intelligently presented opposition, they unanimously voted to advance the suburbanization of Hamilton Pool Road. They approved the extension of their Highway 71 water line out beyond Crumley Ranch Road for the sole benefit of 3 developers. It is a very sad day.
The board had met in the morning, long before they received public input, and, according to observers, had already decided our fate. The public hearing, in other words, was a charade meant to give the illusion of sensitivity to the will of the people. (Check out my photo essay on that meeting.) General Manager Joe Beal made repeated, persistent arguments that the board should do what he wanted them to do and, in the end, they all gladly did, even those board members for whom we had some hope of sanity and potential resistance (see the report on the September 15th board meeting for more on that).
The event did get considerable press coverage (not that it did us any good). Here's streaming video of the KXAN TV news story featuring a fiery Gene Lowenthal. I also made it onto the 10:00 KVUE news that night. Here are Kevin Carmody's articles in the Austin American Statesman, from 12/7/04 (the day of the meeting) and 12/8/04 (the post mortem). In that December 8th article, fans will find a photo of yours truly giving testimony to the tune of Hendrix' "Hey Joe". And here is the full page ad taken out in the Sunday paper, 12/5/04, by Mike and Pam Reece on behalf of the Hill Country Coalition.
"WATERGUY" CRITIQUES HPR WATER CONTRACT
My favorite engineer, David Venhuizen (known to many as "Waterguy") has written an in-depth critique of the LCRA's HPR water line contract. The contract appears to be totally ineffectual when it comes to holding developers accountable and protecting the environment. Read David's critique and you'll see what I mean.
PICTURES UP FOR YOUR VIEWING FRUSTRATION
December 2nd, the Hill Country Alliance staged a demonstration at LCRA headquarters and then December 3rd, they held a press conference. Here are some demonstration pictures, and some press conference pictures. KXAN TV did a decent story. I've got it here as a "Real" format streaming video. I'm told it can also be viewed on KXAN online.
ARGUMENTS TO THE CONTRARY - THE EVIDENCE IGNORED BY THE BOARD
Want to see some examples of the hundreds of letters that folks have sent to the LCRA board expressing their opposition to the water line? Here are a few:
SOS Alliance's Stuart Henry clearly spells out how the Hamilton Pool Road water line and the development it will bring would be detrimental to the health of Barton Springs. then there's one from Gene Lowenthal of the HPRSCC, Sierra Club's Donna Tiemann, SOS's Colin Clark, Senator Barrientos and one that I sent to Senator Barrientos (with variations to LCRA board members).
In addition, Christy Muse of the Hill Country Alliance put together a good list of talking points that. Download it here.
If you are outraged and want to express yourself in writing. Here is a list of Board members and their addresses.
HAMILTON POOL ROAD IN THE PAPERS
On the top of the front page of theTuesday, November 30th Austin American Statesman, the late (and sorely missed) Kevin Carmody wrote a terrific article, linking pollution of Hamilton Pool with new development. He did a pretty good job of including mention of the water line and its potential effects. And there are a couple of quotes from our buddy Smitty and yours truly as well. If you don't get the paper you can check it out on-line, or download this PDF of the story.
And the cover story of the 12/2/04 Austin Chronicle provided a detailed analysis of the situation out here. If only the LCRA board members had read all this stuff and taken their responsibilities to the community seriously...
LCRA PIPELINE UP TO CRUMLEY RANCH ROAD IS SWEETHEART DEAL FOR REBECCA HUDSON.
HILL COUNTRY ALLIANCE MISSION TO SAVE THE HILL COUNTRY
A new organization has been formed to work toward preserving the rural nature of the Texas Hill Country, protecting water quality and supply and keeping a check on urban sprawl. Established as a coalition of existing groups and individuals who are also working on their own local issues, the Hill Country Alliance had its first organizational meeting on September 4th at the Bee Creek home of Christy Muse. For info on meetings and actions, check out the Alliance page. The 3rd meeting was held October 14th, at Buster's Barbeque on 620 just north of 71. The 4th meeting was also held at Buster's on October 28th and the 5th at Christy's house on November 14th. The 5th meeting was November 30th at Bert & Ernie's, the 6th was December 13th at Ira Yates' place. The 7th meeting was January 18th. At this meeting Christy announced that she had secured sufficient donations to fund her position as Executive Director for at least 6 months. The establishment of non-profit status for the organization has also begun. The next meeting was March 7th at Star Hill Ranch, where all future meetings will be held. The next meeting will be announced here. The Alliance has its own website at www.hillcountryalliance.org. Please check it out. You can also download the Coalition's official Position Paper here.
COMMISSIONERS' COURT APPROVED PHASE 1 OF SWEETWATER
On Tuesday, June 29th, The Travis County Commissioners' Court voted to approve phase one - the first 549 lots of Bill Gunn's outrageous and totally inappropriate Sweetwater (formerly Lazy 9) development. If you thought Hudson and Formby's plans are problematic, you're gonna get apoplectic over this one - 1,893 housing units plus schools and commercial development on 2,500 acres between Highway 71 and Hamilton Pool Road - a small city (look at the plat). S.O.S. estimates that this development could add 18,000 car trips daily to the already challenged Hwy. 71. Read all about it on the Lazy 9 Meeting page.
REGIONAL PLANNING HAS PRODUCED A PLAN
The email dialogue among "stakeholder" participants was hot and heavy, with lots of good ideas (or more accurately, ideals) being excitedly passed back and forth and elaborated upon. Some of the substance has actually made it into the final draft of the 400+ page plan, which can be viewed at www.waterqualityplan.org. If any of these ideals become enforced by governmental authorities, I will be extremely (but pleasantly) surprised. If you'd like to read my somewhat cynical reports on the first two organizing meetings, they are still available: Meeting 1 & Meeting 2. And yes, I'm still cynical about the outcome of this hard-working group. While I would love to see the plan adopted by all in the region, I fear it will all end up an exercise in futility. Of course, if the Texas legislature has its way, impervious cover and other land-use restrictions will cause great financial pain for the municipalities that adopt them because the once-defeated "takings" legislation will surely rear its ugly head again some day at the lege.
Disgusting, isn't it?
Here are some of the sights that Annie and I see every day during our walk along Hamilton Pool Road. Some other appliances have recently been picked up by the County but they somehow managed to leave all this and more.
This illegal dump is a bummer. It is in the wooded area by the 180 degree switchback where the road goes down to the Pedernales River below Norsworthy Ranch. What can be done about these jerks who see a beautiful countryside and think "Hmmm, good place to dump my major appliances."?
OUTSIDE PARADISE, LOCAL & NATIONAL POLITICS NEED OUR ATTENTION
LOCALLY
Our (District 47) Texas State Representative Terry Keel is retiring from the job to run for Texas Court of Criminal Appeals. No great loss in the legislature, from this observer's point of view.
Running for the seat on the Democratic ticket will be Jason Earle, son of local (and national) hero Ronnie Earle. The other side has not fielded a strong candidate so Jason has a good shot at winning. I believe he deserves of our support.
NATIONALLY
(Oh where to begin?) Practically the entire political population of Washington DC is sorely in need of replacement. Bouncing everyone out of the criminal Whitehouse would be a good start. The good news is they are starting to suffer a meltdown from their own hubris. The bad news is they always seem to get out from under their own shitstorms. Impeachment proceedings, with any other Senate in any other time, would be a given. About that, we shall see.
Meanwhile, the national desire-fire to get the hell out of Iraq now has finally ignited. One of the sparks was Cindy Sheehan. Her Crawford campout was brilliant, if accidental, political theater. Annie and I spent a day up there and it was inspirational. I shot lots of video there and will post links to the clips as soon as they are edited.
Taking it on the road, in the Bring Them Home Now Bus Tour was the next clever move for Cindy and the gang. Their first stop was right here in peace-friendly Austin, Texas, where a march and rousing rally were held. Again, I was there with my video camera. But this time, I actually completed an edit of the proceedings. The total show runs 16:50 and can be found as a RealVideo file at http://www.aimproductions.com/realaudio/CindyRalliesAustinFullHB.ram. I have also broken it down into 3 shorter pieces for ease of access. The segments are broken down as follows:
1. The bus arrives, the march, and the first part of the rally at City Hall with Lisa Rogers (singing "Our Kids Won't Go"), Jim Hightower, Eliza Gilgyson (singing "Man of God") and Iraq Veterans for Peace member (and Camp Casey bugler) Jeff Keys. Its url is http://www.aimproductions.com/realaudio/CindyRalliesAustinPt1hb.ram.
2. This part covers the middle of the rally with 2 Gold Star Families for Peace members, Ann Wright, slam poet Genevieve Van Cleave (who got married at Camp Casey) & David Rovics (singing "Who Would Jesus Bomb"). You'll find it at http://www.aimproductions.com/realaudio/CindyRalliesAustinPt2hb.ram.
3. The last part is Cindy Sheehan's speech and a rousing version of John Lennon's "Imagine" sung by Amy Cook and the entire crowd. The url for that piece is http:// www.aimproductions.com/realaudio/CindyRalliesAustinPt3hb.ram.
ON TO WASHINGTON
When the busses arrived in Washington for the massive demonstration on September 24th, we were there too. The march was great - 250,000 (or more) people of all ages and ethnicities. I was especially encouraged to see so many young folks marching shoulder to shoulder with us geriatric march veterans. As one might expect, I shot lottsa videotape. It is on-line as RealVideo at: Then we went to Washington. Shot video again. A 20 minute edit is at:
http://www.neighborsinparadise.org/video/WashingtonMarch9-24-05.ram

It is also broken down into 3 shorter segments at:
http://www.neighborsinparadise.org/video/WashingtonMarch9-24-05_pt1.ram,
http://www.neighborsinparadise.org/video/WashingtonMarch9-24-05_pt2.ram and http://www.neighborsinparadise.org/video/WashingtonMarch9-24-05_pt3.ram
Annie shot some stills and I have put a little web page of them up. Please have a look at: http://www.neighborsinparadise.org/WashingtonPeaceMarch9-05
FOULWATER DEVELOPMENT REJECTED BY COMMISSIONERS AGAIN
March 14, 2006

After several postponements, the Travis County Commissioners again considered preliminary approval of the horrendous "Sweetwater" development which would include over 1,800 homes on lots (as small as 1/6 acre each) that will drain into Bee Creek and spray their effluent across about 300 acres in the Barton Creek watershed. Wisely, the Commissioners again refused to approve the plan.
Naturally, Our own Commissioner Daugherty was the lone voice in favor of the Hill Country-destroying proposal. The guy has never met a chunk of concrete he didn't like.
For more information, Christy Muse of the Hill Country Alliance sent out this announcement before the last meeting. Sweetwater will surely rear its ugly head again so stay tuned for more.
HILL COUNTRY ALLIANCE TO HOLD DARK SKIES WORKSHOP THURSDAY
Thursday, March 23rd, the Hill Country Alliance will be hosting a Dark Skies Workshop at the Star Hill Ranch. Here's the flyer.
IT'S BAAAACK - FOULWATER DEVELOPMENT COMES BEFORE COMMISSIONERS
After several postponements, the Travis County Commissioners will again consider preliminary approval of the biggest threat to our Hill Country to come along yet. If approved, this phase of the "Sweetwater" development will include over 1,800 homes on lots (as small as 1/6 acre each) that will drain into Bee Creek and spray their effluent across about 300 acres in the Barton Creek watershed. This monstrosity will be situated along Highway 71 West but will even be visible from places along Hamilton Pool Road.
The Commissioners' meeting will be this Tuesday, March 14th, at 10:00pm. Please try to attend and make your voice heard. Please also write the Commissioners and tell them what you think. Their email addresses are: sam.biscoe@co.travis.tx.us ron.davis@co.travis.tx.us karen.sonleitner@co.travis.tx.us gerald.daugherty@co.travis.tx.us commissioner.gomez@co.travis.tx.us.
For more information, Christy Muse of the Hill Country Alliance sent out this announcement, Stay tuned for more.
FOULWATER DEVELOPMENT DENIED PRELIMINARY APPROVAL
February 7th the Travis County Commissioners denied preliminary approval of the biggest threat to our Hill Country to come along yet. On January 31, the Commissioners also debated approval of this huge, neighborhood-killing, environmental nightmare, ironically called "Sweetwater". After long discussion, the issue was postponed a week and was taken up again on the 7th. Projected ultimate buildout includes almost 3,000 homes on quarter acre lots that will drain into Bee Creek and spray their effluent across about 300 acres in the Barton Creek watershed. This monstrosity will be situated along Highway 71 West but will even be visible from places along Hamilton Pool Road. For more information, Christy Muse of the Hill Country Alliance sent out this announcement, this update and this reminder. Here's her report from the meeting. Stay tuned for more.
HILL COUNTRY ALLIANCE SPONSORS CANDIDATE DEBATE FEBRUARY 16th
Along with several Oak Hill organizations, the HCA will be staging a debate between candidates for the Texas House of Representatives, District 47 (which includes Lakeway and most of Western Travis County.Here's the official announcement.
SUPPORT LOCAL TREASURE WESTCAVE PRESERVE
Bats and spiders and owls, the creatures of Halloween Night, are the focus of the "Spook-tacular Creatures" program at Westcave Preserve. It's Sunday, October 23, 2005, 3-6pm. For info, here's the flyer, and the press release.
If you haven't had the standard Westcave tour, you are missing something wonderful. They're open to the public on weekends. You might want to take a look at the Preserve's website. Check it out at www.westcave.org.
LCRA MEETING WAS FIRST LOOK AT NASTY PLAN FOR HILL COUNTRY
Wednesday, September 15th, LCRA staff rolled out preliminary plans for their expansion into western Travis County and northern Hays County. LCRA will presumably trot these plans out to the public in mid-October so a few of we HP Roaders took this opportunity to get an early look. What we saw was outrageously alarming and we've definitely got our work cut out for us. Please read the report on the meeting then TAKE ACTION.
As you will see in the report, some of the board members were not marching in perfect lockstep with Manager, Joe Beal. These dissenting board members might be able to hold back the tide if they perceive that they have broad popular support to do so. So please write letters to all of them and let them know what you think. If they have expressed reservations about rampant development in environmentally sensitive areas, give them support for that point of view. They are the sane ones and need to be applauded. Here are the board member mailing addresses.
On the same day the western Travis County Advisory Panel, convened by Commissioner Gerald Daugherty, met that afternoon. Two of our stalwart activists, Gene Lowenthal and Christy Muse attended both meetings (whew!). Christy posted this brief report on the Advisory Panel meeting.
GOOD NEWS (FOR A CHANGE) - REIMERS RANCH IS NOW A COUNTY PARK
December 10, 2005
We just drove past what used to be the entrance to Milton Reimers' fishing, climbing and cycling ranch and saw a shiny new sign going up saying "Milton Reimers Ranch Park". Yay! Travis County is to be commended for pulling off this fabulous land acquisition. Travis County voters are to be commended for their vision in approving the bond issue that is paying for the acquisition. And that gorgeous place will now be preserved and protected, hopefully for generations to come. It officially opened as a county park on December 1st and, as a special introductory offer, will be free of charge for public use until January 31st, when a fee of $8 per vehicle will commence. For more info about the park, check out this page on the Travis County website.
THIS LITTLE PIGGY WENT MISSING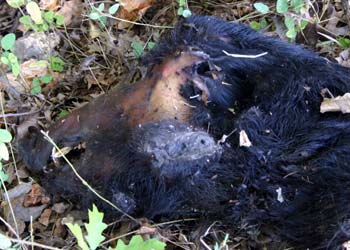 November 25, 2005
On Thanksgiving day, during our daily walk, Annie and I found this small feral hog reduced to roadkill along Hamilton Pool Road just east of the river. Or maybe it was shot (there did appear to be a hole in the side of its head). Anyway, the buzzards had already quickly deflated the beast to an empty shell. Next day - not a trace. Somebody done pilfered the pig. What could they have possibly wanted this thing for? Hog sweet-breads for Thanksgiving dinner? Yum! I guess it would make a scary Halloween mask if the wearer could get past the odor.
HPRSCC THREW A HUGE BLOCK PARTY
On Sunday, October 10th, the Hamilton Pool Road Scenic Corridor Coalition put on a great party for the neighborhood. It was held at the Star Hill Ranch, a terrific party facility right here on Hamilton Pool Road. Depending on whom you ask, there were anywhere from 150-200 attendees. Terry Henry's band provided some great music and the gang from Bert & Ernie's supplied the food. Smitty brought the beer left over from the big Public Citizen anniversary party (which was a wonderful love fest and tribute to our own Smitty). HPRSCC members worked the petition table and got over 100 signatures. They also got people to write scads of postcards to various politicians. Check out Nell Penridge's and Damian Priour's party pictures.
NOT ANGRY ENOUGH TO WRITE YET? THIS JUST IN (2-8-05)
Lest LCRA proclaim innocence. Here are 2 documents: A letter from Joe Beal to the board, telling them about the new Sweetwater deal and the public protests and letters they are likely to receive, and an internal, staff email thread talking about the LCRA being the best option for Sweetwater, rather than their competition (a private water company).
LOCAL PLANNING GROUP BACK IN ACTION
They're baaaack! The intrepid group of Hamilton Pool Road Warriors is meeting again. I only found out about the February 9th meeting on the day it was occurring so I had made other plans and couldn't attend. Nevertheless, here's a report from Damian Priour on what went on. If they see fit to inform me of other meetings, I'll pass the info along here.
SAVE THE HEART OF TEXAS CONFERENCE - MARCH 4-6, SAN ANTONIO
A 3 day conference for Hill Country activists. Get involved, get active, get more information.
PUBLIC MEETING ON GROWTH ISSUES FEBRUARY 10
PLEASE ATTEND AND GIVE YOUR SUGGESTIONS
Travis County has established an Advisory Panel to develop recommendations and a conceptual growth plan for the southwest portion of Travis County. The Advisory Panel will hold a Public Meeting to take public input on growth related issues for the unincorporated portion of Travis County west of the Village of Bee Cave and south of the Colorado River (Lake Austin). The meeting will be held at the Bee Cave Elementary School, 6-8:00pm. More Info
ALLIANCE FOR A CLEAN TEXAS PRESS CONFERENCE JANUARY 18
Please attend the press conference Tuesday, January 18th, 9:00am at the Texas State Capitol, Speaker's Committee Room (2nd floor, outside House Gallery). ACT will be presenting the organization's top legislative priorities to clean up Texas and improve public health. More Info
LOCAL PLANNING MEETINGS MAY HAVE RESUMED AT WESTCAVE PRESERVE
The LCRA is funding a meeting facilitator to coordinate a local planning process specific to the Hamilton Pool Road corridor. Here is the invitation to the first, July 27th meeting that was sent out to potential participants. After that initial meeting, facilitator Juli Fellows distributed these materials regarding the planning process. The "1st Core Group meeting" was held Thursday, September 2nd at Westcave Preserve. To find out more about this meeting, as well as most of the other meetings held from September through December 1st, check out the Local Planning page. There, you will also find a brief report by Damian Priour on the renewed group's 12th meeting held on February 9th. Watch this space for more details as they come in. My information here will be limited since I am no longer being kept apprised of what goes on at those meetings, or even when they are to be held (could it have anything to do with my cynicism about the process and effectiveness?) So find out for yourself at their website, which can be found at http://www.hprforum.org.
Original website greeting letter:
Howdy Neighbors,
We inhabitants of the Hamilton Pool Road corridor have only recently become aware of plans that were developed, in the dark, by the LCRA and a single landowner who wants to develop her property into suburban-sized (quarter acre) residential lots. The plan is to install a 12" water line with the capacity to provide water for many more homes than the 468 in that single subdivision. Many neighbors have gotten up in arms about this and their light is now illuminating the dastardly deed quite brightly. Organization has taken place in the form of the Hamilton Pool Road Scenic Corridor Coalition which has been doing a great job of getting the word out and may be contacted for further information at sceniccorridors@yahoo.com. And the HPRSCC has a website. It can be found at www.hprscc.org. The ever-valiant SOS (Save Our Springs) Alliance has a substantial history of battling environmentally destructive projects such as this one and they are on the case. They may be contacted at sosinfo@sosalliance.org. Or visit their website at www.sosalliance.org.
I hope this website can be another avenue, a place for us to stay in touch and find out what's happening in the struggle to keep a check on rampant development. The title, Neighbors In Paradise, forms an acronym. This stands for a desire to NIP suburban sprawl in the bud. Toward that end, I will herein post materials, both informational and inspirational. This can also be a space to address other issues relevant to the area and to helping retain the wonderful quality of life we currently enjoy.
Your participation will make this site a more valuable communications tool for our community. Please email me your musings, ideas for organization, notices of events (such as hearings), photos, cartoons, illustrations and anything else you think our neighbors might like to see.
Working together, we may be able to hold back the tide. Having a website to facilitate community connection certainly couldn't hurt... might even help. Please contact Ric Sternberg, your humble webslave, at ric@aimproductions.com. I can even be phoned at 830-825-0133.
LCRA WATER LINE STILL THREATENS THE NEIGHBORHOOD
Concerned about your community, your road, your environment, your peace and tranquility? LCRA and a few developers have big plans for the destruction of all of them. A 16 inch water line was proposed and almost railroaded through with extremely limited public input or knowledge.
After 2 public hearings and a board meeting, the outcry was enough to persuade the LCRA Board that it would be prudent to postpone the project and give the regional planning process (already underway) another 7 months (through December) before acting on the pipeline project. This decision is a partial victory for those likely to be most affected by the pipeline and development it will bring. This victory can be partially attributed to a group of neighbors who organized rapidly to get the word out. The organization is the Hamilton Pool Road Scenic Corridor Coalition and their website is at www.hprscc.org.
KEEP IN MIND THAT THE LCRA FULLY EXPECTS TO PROCEED WITH THE PROJECT AFTER THE 7 MONTH WAIT SO THERE IS MUCH TO BE DONE. Here, in PDF form, is the resolution passed by the LCRA Board at their May 19th Board meeting.
TRAVIS COUNTY COMMISSIONERS APPROVE HUDSON PRELIMINARY PLAT
Despite many eloquent arguments against approval, on Tuesday, October 12, the Travis County Commissioners approved a preliminary plat for 468 homes on the controversial Rocky Creek Ranch subdivision. This monstrosity of a housing development, which prompted the creation of this website in the first place, is being foisted on our community by Rebecca Hudson, a person who apparently does not care what her neighbors think of her. In her testimony before the Commissioners' Court, Ms. Hudson had the chutzpah to claim her right to destroy the flavor and tranquility of the neighborhood based on her family having owned the property for 30 years. This, she claimed, was longer tenure than many of the people who were complaining about her plans. As Sandy Wood pointed out at that same hearing, the entire stretch of Hamilton Pool Road, including all the individual homesteads and subdivisions between Highway 71 and the Pedernales River, currently contains about 700 homes. Ms. Hudson's poorly conceived and almost universally unwanted project will, in one fell swoop, increase that number by over 66%!
LAST BIG PUSH TO SIGN PETITIONS
This is it, friends. The LCRA Board will be meeting to decide the fate of Hamilton Pool Road on December 7th (today) and we need your help to convince them to postpone action at least until the various planning processes have had a chance to work. To sign an on-line petition (and get everyone you know to do it too), please go to the HPRSCC website.
LCRA MEETING TODAY, DECEMBER 7th (PEARL HARBOR DAY) - BE THERE!
This afternoon, 2:00 PM Tuesday, December 7, 2004, there will be a special meeting of the LCRA Board of Directors at the Terrace Club, 2600 Highway 290 West (a few miles east of Dripping Springs). The meeting will be devoted to the LCRA's water utility plan for Western Travis and Northern Hays counties. THE HAMILTON POOL ROAD WATER LINE WILL BE THE MAIN TOPIC. The Board will probably vote on it so we need your support. Please make every effort to attend this meeting.
LOCAL (HAMILTON POOL ROAD) PLANNING PLODS ON
Read the latest on the slogging "consensus" process being used to try to achieve a representative vision for our beloved Hamilton Pool Road corridor. You'll find it on the Local Planning page. Please take the time to read this stuff if you can. I think it reveals how the planning process has been coopted by the LCRA and their "facilitators". [See the box down below that talks about local planning for more info.]
SIGN THE HAMILTON POOL ROAD SCENIC CORRIDOR COALITION PETITION
Please download it, print it out and sign it then get all your friends and acquaintances to sign it too. After it is signed, send it back to the address at the bottom. To download the petition, please click here.
LAST BIG PUSH TO SIGN PETITIONS
This is it, friends. The LCRA Board will be meeting to decide the fate of Hamilton Pool Road on December 7th and we need your help to convince them to postpone action at least until the various planning processes have had a chance to work. To sign petition (and get everyone you know to do it too), please download one here. Then, as quickly as you can, mail it to Gene Lowenthal at 9600 Crumley Ranch Road, Austin 78738 (Disregard the Nov. 15th deadline mentioned at the bottom of the petition. That is changed to the 11/30).
If you'd like to write a letter, we've made it really easy for you. Just address it "Dear LCRA Board Member", write as much or as little as you'd like to say about the proposed HPR water line. It would be great if you would include something about postponing their decision until regional and local plans are done. Then send it along with the petition (or by itself) to Gene at the above address. He will make 15 copies and get them to all board members. As an alternative, you can e-mail the board through Joe Beal joe.beal@lcra.org and put at the top "Please forward to all board members".
Beautiful, isn't it?

On June 1st, we found this brand new black fawn, sleeping right near the house. Days later, we saw him prancing about on spindly legs. Then a dog jumped off a pickup truck bed and chased the little guy for some time. After what seemed like an eternity, the dog's owner captured him and declared that the fawn got away. We have since seen two black juvenile deer playing in the woods. Guess this one made it and had a sibling, to boot.
REGIONAL PLANNING CONTINUES
The next Regional Water Quality Protection Plan Stakeholders meeting will be held on November 17th, 6:00 P.M., at the Oak Hill United Methodist Church, 7815 Hwy 290 West (across from ACC Pinnacle campus). Here is the latest meeting agenda sent out by Director Terry Tull. To see what the management of the Regional Plan is presenting to the public, check out their website at www.waterqualityplan.org.
OUR DAY IN COURT - SOS VS. LAZY 9 MUD
Thursday, November 18th, will be the final court day of the SOS Alliance law suit challenging the Lazy 9 MUD (aka Sweetwater). This is an important case, challenging the constitutionality of this ill-conceived MUD. The developers say they expect the MUD to contain 9,200 people by 2014. Current population - 0. You can read the exact claims that SOS has against the MUD in the live pleading.
The proceedings will be at the 250th District Court, Room 314 (next to the stairs) in the Travis County Court House. The action should begin around 10:30am.
IT IS IMPORTANT THAT THE JUDGE SEES SOME FACES OF HILL COUNTRY FOLKS WHO WILL BE AFFECTED BY THIS SO PLEASE TRY TO BE THERE TO SHOW YOUR SUPPORT IF AT ALL POSSIBLE.
On Sunday, July 18th, MoveOn.org set up a bunch of house parties, at which the Robert Greenwald documentary "Outfoxed" was shown. We attended one at our neighbors Jueri and Mara's studio. This is a very well made and revealing exposé about just how "fair and balanced" Fox News' reporting is. You can get your own DVD of the film by making a donation to alternet.org. They have mounted a legal battle to get Fox to stop using the "fair and balanced slogan and need all the help they can get. To donate or find out more, click http://www.alternet.org/mediaculture/19265/. MoveOn has got an on-line petition about Fox's use of that big lie slogan, which you can sign at http://www.moveon.org/fox/ Or, right here you can even get your very own hard copy of the petition. Let's get busy.
LICK CREEK BENEFIT CONCERT WITH JIMMY DALE GILMORE HUGE SUCCESS
Saturday, August 28th, there was a house concert with Jimmy Dale Gilmore, Colin Gilmore, Jan and Jenny Evans and the Melancholy Ramblers to benefit the Guardians of Lick Creek. The concert was held at Susie Fowler's Shade Tree Potter gallery overlooking the Pedernales River. The artists volunteered their talents and the proceeds will be used for the Lick Creek legal struggle. Those who attended were treated to a great musical event in an intimate setting while helping out a really good cause. Check out the pictures.
TRAVIS COUNTY COMMISSIONERS TO VOTE ON ROCKY CREEK RANCH TUESDAY
Tuesday, October 12th, at 10:30 A.M., the Travis County Commissioners will consider approval of Rebecca Hudson's Rocky Creek Ranch subdivision. It is imperative that we get as many people to that hearing as possible to make their voices of opposition heard.Even if you don't want to speak, please go and sign up signifying your opposition to this outrageous and potentially precedent-setting high-density (60-80' lot frontages) development.
The hearing will be held at the Travis County Administration Building, 314 W. 11th St., first floor. Get there early because parking in the area is difficult and seating is limited. If you do intend to speak, you might want to take a look at the talking points offered in this flyer.
HAMILTON POOL ROAD NEIGHBORHOOD PARTY SUNDAY, OCTOBER 10th
If you live in the Hamilton Pool Road corridor or are interested in Hamilton Pool Road issues you are invited to our neighborhood party. The festivities, sponsored by the Hamilton Pool Road Scenic Corridor Coalition, will be Sunday, October 10th, 2:00-5:00 P.M. at the Star Hill Ranch, 15000 Hamilton Pool Road. Join us for food, drinks, activities, exhibits and good conversation. Admission is free and children are welcome
For more information, call 512-263-1721 or email HPRslowdown@yahoo.com. See you there.
Regional Water Quality Protection Planning
The second Stakeholder Committee Organizational Meeting of the Regional Water Quality Protection Plan for the Barton Springs-Edwards Aquifer Contributing Zone was held on Wednesday, June 30th. This report on Stakeholder meeting 2 will give you the details. Or, go to the Stakeholder Meeting 1 page, where you will find an article about the first Stakeholders' meeting.
Due to complaints about the issue of balance on the Stakeholder Committee, several of the people elected by their interest groups to represent them have been replaced. Apparently, one of the gripes was that there are too many people from Hamilton Pool Road on the Committee. There were also complaints that from the "landowners" interest group, there were no landowners who were interested in developing their land. Hmmm, we wonder who has been complaining. I wrote to Terry Tull, asking who had the gripes. In response, I received a pleasant phone call and had a good conversation with him but later got an email telling me he would not be able to answer my question. The revised list of Stakeholder Committee members is available as a Microsoft Word document here.
The 3rd Stakeholder Committee meeting was held on Wednesday, June 21, at the ACC Pinnacle Campus. The major topic of discussion there was the bylaws for the committee to follow. The concept of concensus turned into a bone of contention, with some members (including our own Karen Hadden and Smitty) wanting a majority rule vote to decide deadlocked issues. In the end, it was agreed to stick with the provision proposed by the consultants in the draft bylaws - to have the director determine if a concensus could not be reached and then call for a vote to be decided by a 75% majority. Karen & Smitty eventually yielded in the interest of concensus. Another important discussion centered on accelerating the planning process to produce a plan before the LCRA's proposed waterline construction which is slated to begin in December, 2004. A Schedule Review Subcommittee was established to study the issue and report back to the next full meeting.
The next (5th) Stakeholder Committee meeting is scheduled for September 15th at 6:00 PM. See the announcement at the top of this page.
Our neighbor Tom "Smitty" Smith met with Joe Beal of the LCRA on June 14th. Check out his report on Smitty's Page.
Old stuff: A position paper from the HPRSCC as well as a flyer that the Coalition has put out are available as PDF files. Just click and ye shall receive.
This may not be directly related to neighborhood issues but it is important nevertheless. Are you registered to vote? If not, it's easy to get the proper application at this website. If you don't vote, don't complain. Here's the URL:
https://www.workingforchange.com/vote/index.cfm?ms=CMC001
WESTCAVE PRESERVE PIONEER DAY
Saturday, November 20th, Westcave Preserve gives you the opportunity to see how central Texas settlers lived in the late 19th century. Experts will demonstrate pioneer skills and pioneer craft activities will be available for children. Tours of the preserve will also be offered throughout the day. Pioneer Day activities will be 11:00am to 3:00pm and the fee will be $5 for adults and $2 for children. For more info, check out the press release or call 830-825-3442.